DOYUKAI in Action
Committees and Project Teams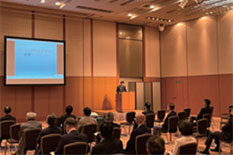 (Photographed in May 2022)
DOYUKAI organizes policy committees and project teams on key issues related to the state of Japanese society.
Each committee / project team sets its goal as vigorously influencing policy debate, promoting awareness about policy issues, nurturing understanding on the Japanese economy, and making policy recommendations a reality.
Dialogues with Leaders in Various Sectors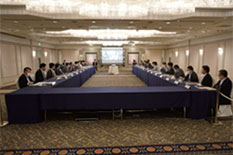 (Photographed in June 2022)
DOYUKAI seeks opportunities for productive, face-toface discussion with leaders in various sectors including politics, government, academia, and civil society. Through such dialogues, we promote deeper and broader understanding of its policy proposals and recommendations.
Overseas Activities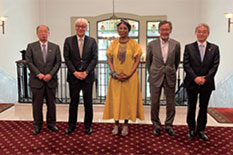 (Photographed in May 2022)
DOYUKAI hosts overseas study tours and international conferences for its members. It organizes various dialogues and roundtable discussions with leading foreign figures in Japan and overseas. Through those opportunities, members of DOYUKAI learn foreign insights on the issues, express their opinions to foreign leaders, and discuss on solutions for global challenges with the diversified viewpoints.
Future Selection Forum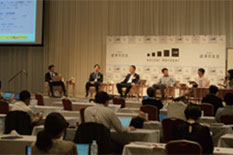 (Photographed in September 2020)
The Future Selection Forum seeks to identify the issues of and options for the future of Japan, based on free and open-minded discussions.
"Next generation" and "Diversity" are its keywords. A wide range of stakeholders assembles and discusses the issues to promote bold decisions and actions toward social transformation, without being restricted by the complex conflict of interests or constraints. Launched in September 2020, it has already organized "Open Forums," taking up issues such as the participation of younger generations in politics and environmental/energy policy.
Symposia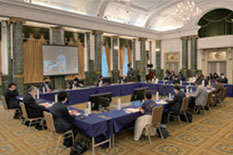 (Photographed in June 2022)
DOYUKAI from time to time holds symposium open to the public and the media, to send out its messages and ideas broadly and produce momentum for reforms, as well as to provoke open discussion on issues of importance to the future of Japan.
Press Conferences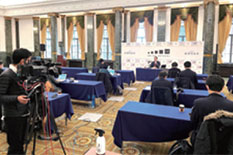 (Photographed in February 2022)
DOYUKAI Chairman Sakurada briefs the media at semimonthly press conferences.
At these occasions, DOYUKAI introduces new policy proposals and responds to questions on various economic and political matters.