DOYUKAI in Action
Committees and Project Teams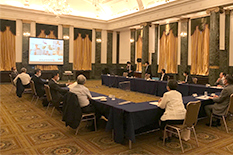 (Photographed in July 2020)
DOYUKAI organizes policy committees and project teams on key issues related to the state of Japanese society.
Each committee / project team sets its goal as vigorously influencing policy debate, promoting awareness about policy issues, nurturing understanding on the Japanese economy, and making policy recommendations a reality.
Dialogues with Leaders in Various Sectors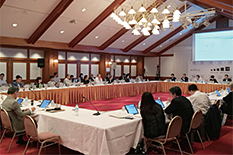 (Photographed in July 2019)
DOYUKAI seeks opportunities for productive, face-to-face discussion with leaders in various sectors including politics, government, academia, and civil society. Through such dialogues, we promote deeper and broader understanding of its policy proposals and recommendations.
Overseas Activities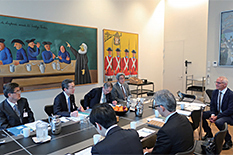 (Photographed in January 2020)
DOYUKAI commits itself to strengthening ties and mutual understanding with friends all over the world. We offer our members a variety of opportunities to exchange opinions and insights with leading figures of many countries through informal roundtable discussions, seminars, international conferences and study tours. We work closely with business organizations and economic institutions around the world to share ideas and information through joint projects and symposia.
With/After Coronavirus Initiative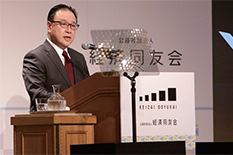 DOYUKAI established a new committee "With/After Coronavirus Initiative" in response to the pandemic of Covid-19. It intends to create a new policy making forum participated by not only corporate executives but labor leaders, academia, mass media, politicians, national and local government officials and NPOs/NGOs. That forum will delineate the discussion points and choices for Japan's future so that policymaking process would be multi-tracked and tides will be produced for transformation of Japan.
Symposia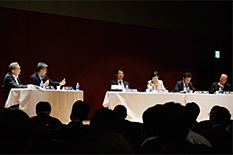 (Photographed in May 2019)
DOYUKAI from time to time holds symposium open to the public and the media, to send out its messages and ideas broadly and produce momentum for reforms, as well as to provoke open discussion on issues of importance to the future of Japan.
Press Conferences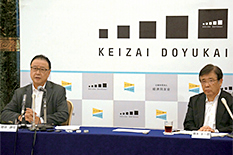 DOYUKAI Chairman Sakurada and President Hashimoto brief the media at semimonthly press conferences. At these occasions, DOYUKAI introduces new policy proposals and responds to questions on various economic and political matters.